Build a business. Then go beyond it. 
If you're ready to move beyond the daily demands and busy-work to build an enduring and prosperous business, I'll help you develop the leadership skills and focus needed to make it happen.
More vision. More precision. More recognition. 
Go Beyond!
My PRO Plan course
Ditch the overwhelm and busy-work, and (finally!) build a plan that works. Learn more
Beyond PRO Podcast
Leadership insights for women in business Listen now
FREE: PRO Project Plan
Get the 90-day roadmap to make your big idea happen.
Download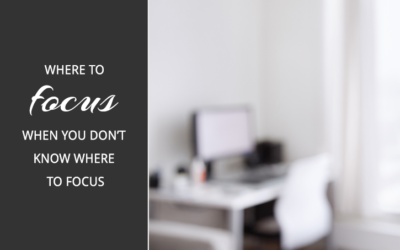 It's not that you don't want to be focused. You get how staying focused on what matters most is crucial it is to the growth and development of your business. You've probably tried a number of strategies to get yourself more focused. Perhaps you've set a timer while you work. Maybe you've turned off all social media distractions on occasion. You may have even buddied up with a fellow entrepreneurial friend to keep yourself accountable. And yet, you find yourself wandering. You can't seem to complete the things you start, and you often question where you're actually working on the right things in the first place. I am ALL for focus. I believe it's a skill that we must develop as business owners, and those that do will lead the pack. But focus for the sake of focus isn't the goal. If that were true, you could easily find yourself 'focusing' on reading cat memes on Facebook instead of writing a blog post. Or you could find yourself focusing on client work and never on the growth of your business. Focus matters. But what matters more is WHAT you focus on. And that's where you might be getting stuck. So let's talk about where to focus when you don't know where to focus. I want you to be clear about where to put your valuable time and attention so that you can get the most from it and start to see results quickly. And by extension, I want you to know where NOT focus, giving yourself permission to say "No" or "Not right now" to the activities that aren't...
There are a lot of coaches out there who I hide from – the bubbly, infomercial types that lack the accomplishments they are telling others to achieve. Stephanie is not one of those people. She is smart, tough, and has built a successful business practicing the values-led business planning she has pioneered. If you are highly successful but feeling more drained than inspired by your work, invest in coaching with Stephanie.
Building a thriving business has never been a challenge for me. Not letting the business run over my personal passions and family time – that's been my issue. In a way that no business book or personal resolution could do – Stephanie challenged me to look at my values and define practical actions to reshape my business and get more pleasure from my professional life. It is work everyday to stay true – but what she teaches, sticks.
Claudia Moore, Partner, Material Insight
Since we began working together I have redefined my business focus, clarified the look and feel of my brand, gotten myself a fabulous new tagline and am just overall feeling laser focused and inspired to take my business up a level – hell, I'm ready to skip a level at this rate. Michelle Barry Franco
Before working with Stephanie, my business was a mess of ideas, complicated packages, obscure pricing and lots of big ideas with no action. Since working with her, my business is completely unrecognizable, in the best ways possible. Before working with Stephanie, I faced challenges around mindset, putting ideas into action, and overthinking/getting stuck in perfection.
I can actually see myself as an entrepreneur and not as someone who is "playing business". Stephanie's motto of "going pro" is woven through all the work you do with her. Stephanie will pull or push you through those mindsets that are holding you back and make you face what it means to go pro.
Amy Deagle, Founder + CEO, Women of Possibility