After more than eight years with Aweber, I decided to make the switch the ConvertKit.
This was a decision I had been considering for some time (making a switch in general), and more recently by debating the merits of ConvertKit.
Just in case you're new to the whole email marketing landscape, Aweber (along with MailChimp, ConvertKit, InfusionSoft, Ontraport and countless others) are email marketing systems designed to allow you to capture subscriber emails and then send them direct messages straight to their inbox. Some are very basic doing only email marketing, and some are full service systems that also include commerce and CRM capabilities.
Email marketing is such a critical component of business for most companies (with the rare exception) because you able to communicate with your audience in the place they spend a good chunk of time (their inboxes). You also have the added benefit of building an asset (an email list) that no external platform (I'm talking to you Facebook) can mess with.
And they want to hear from you! By subscribing, they've raised their hand to say that they'd like more information about you and your business.
Today, I want to take you behind-the-scenes as to why I made the switch from Aweber – a long-standing, popular solution, to the new up-and-coming ConvertKit. Because switching everything and everyone over is not an insignificant undertaking – so I want to be sure you make that choice wisely.
Let me say right out of the gate, that I would still recommend Aweber to business owners. It's a great solution and is well regarded in the industry, particularly for their rigour of asking for the double opt-in to minimize spammers and assure permission (this is where a subscriber has to confirm via email that they do in fact want to receive information). It's reasonably priced, and has many of the basic features needed to do good email marketing. MailChimp is comparable too – however, despite my love for their awesome branding, it lacks features that even Aweber has down. It's great for a basic business owner.
Before ConvertKit came on my radar, I was considering making the switch to Ontraport or Infusionsoft. I was ready for a more robust solution that Aweber just didn't offer. But after years of hearing people call it "Confusionsoft" and the prospect of shelling out big bucks (at least $200+/month plus hefty $1000+ start-up fee) to use 20% of its features, I wasn't super excited about making the switch. Ontraport had some promising options, and one of my clients started using them and was happy (though she did hire an Ontraport consultant and strategist to come in and get it all up and running).
I hemmed and hawed about it for a looooong time. And then I found ConvertKit.
ConvertKit was created by entrepreneur Nathan Barry, a smart, young designer, blogger and program creator. Nathan essentially scratched his own itch after realizing that there was a gap in all the other programs on the market.
ConvertKit has been very forthcoming with their business development, and they even publish monthly income and stats. You can see the latest here and their real-time numbers here. Nathan took the company from a struggling side hustle, to an ever-growing successful company in about nine months once he dedicated his attention to it and made it his focus (yes, this is why I always talk about the importance of focus!!).
Here are the specific features I was looking for:
1. Easy-to-use: I really wanted to get it up and running, and I wanted to be able to work it myself (even if I didn't end up doing it long term). I have a huge value around knowing how to work my systems myself, so I didn't want to have to rely on someone else to take care of it for me and have me in the dark.
2. Integrations: I needed to make sure whatever service I used worked with the tools I already use like LeadPages and my ecommerce solution. While Infusionsoft & Ontraport are basically an all-in-one solution (email, CRM, commerce), that was less of a priority for me. As long as it worked with the stuff I used, I was happy.
3. Custom segmentation & automation: This was the most important factor, and the main reason I was seeking another solution. While Aweber met criteria #1 and #2, it did not meet #3.
4. Affordable: I was willing to pay more money for better features, but wasn't convinced I needed to be paying $200-$300/month for those. I know many, many, entrepreneurs who pay those fees and like I say above, use a fraction of its capabilities. I didn't feel that was necessary for my business – at the point of consideration, I didn't have a complex business with numerous products or sales funnels. For the past couple of years while my kids are home on crazy-small school schedules (right now I have 2.5 hours per day), I have been primarily working 1:1 with clients and offering My PRO Plan. This will change in Fall 2016 when both kids are in school full time (I can't even imagine!?!) and I have more time to execute on my ideas, but for now, the big shot services weren't needed.
5. Analytics: I want an email service provider that can give me great data on my subscribers, from open and click through rates, to interests to where subscribers are coming from.
So with these factors in mind, I had been staying put with Aweber because they met a number of these criteria. But I knew that I really wanted to up level my email marketing and put more customized sequences and automation into place so that the user experience could be much better, and I would have a clearer picture of my audience and what they want from me.
One of the challenges I've had with email marketing is figuring out exactly what to offer and when. I've tried the pretty HTML newsletter, but it felt like overkill at times and a little dated (there are of course a few awesome ones out there, but it just never felt like me). I tried taking an 'e-letter' approach but felt overwhelmed with creating original content for the newsletter on top of the blog. And more recently, I've simply been sending out broadcasts when a new blog or podcast is published. And this is all fine.
But two things have never felt awesome about any of those approaches:
1. They relied on me being super consistent with my content publishing (something I am not always awesome about).
If I didn't post for a while, and then sent something out, I'd get a handful of unsubscribes from people who basically forgot they were on my list. This method wasn't ideal for building the know, like and trust factor. Yes, of course, I would say that I should be working on consistency (and I am — which is why I hired a Content Director!), but until I have that locked down, I wanted a different way to give people a solid, valuable user experience when they first join my list.
Enter the autoresponder. The autoreposnder (or as ConvertKit calls it, a Course), is a series of messages that get sent in succession automatically. You write them once, determine the frequency, and then subscribers get these same messages no matter when they join your list. It's a fabulous strategy because you build it once and then you can rest knowing that even if you can't send something in real-time, they are still getting these carefully crafted emails.
This was all possible with Aweber, with some drawbacks (and one of the reasons I switched to ConvertKit). While you could set up an autoresponder sequence in Aweber, it was not easy or convenient to segment out those users who were in the sequence from getting your main newsletter or blog broadcasts. So, it was possible that people were getting multiple emails from me a week.
In ConvertKit, this is much easier. Unlike Aweber where you set up separate lists (I had 63 lists when I shut my account down), in ConvertKit, you don't have lists at all. Instead, you use tags and automation rules to segment your audience. So I can have someone go through a nurture sequence (when they first join my list) while still sending my blog/podcast broadcasts to my main list. I simply create a rule:
Trigger: When subscriber completes a course (drop down of course options),
Action: Subscribe them to a course (drop down of course options).
In this example, if someone comes onto my list, they can go through the New Subscriber Nurture Course (autoresponder sequence) until they reach the end of the messages. Once they are complete, they'll be added to my main blog/podcast broadcast list and start receiving regular weekly updates from me. Voila!  LOVE this feature.
2. They did not allow for a particularly custom experience.
I have a range of people in my email list. There are beginners, side hustlers, 3-5 year entrepreneurs, struggling entrepreneurs, entrepreneurs on the growth path and veteran business owners. While I am always an advocate of having a reader/buyer persona, I do want to create content that can service people at different stages of their journey.
Given that the crux of my message is around developing the leadership skills needed to be successful and sustainable in business, I like talking about everything from productivity and focus, to planning, tools and systems, to growth and progress, to personal leadership and mindset.
But that doesn't mean everyone wants to hear about everything and the exact moment I want to share it. My clients and readers who are in major growth mode with their business don't necessarily need to go through my comprehensive planning program, My PRO Plan (or the content I write around it). They've got a plan, and their focus is on growth strategies and developing their leadership skills.
Conversely, a struggling entrepreneur who feels like she's throwing spaghetti at the wall would certainly benefit from my content on focus and productivity, and mindset. She's not ready for growth strategies yet.
With Aweber, managing these divergent interests was tricky without asking people to constantly opt-in to new lists.
In ConvertKit, it's a dream.
The key to this is effective tagging. In ConvertKit, I can create endless tags and set up triggers that automatically tag people based on their actions. Then, I can send streamlined, relevant communications to them based on what they say they are interested in.
Here's a few examples from the basic to the more complex:
Basic: Each week I send out an email about my latest podcast episode. Now, I create a rule that says that if they click on the link inside my email (sending them to my show notes page), they get tagged as Interest: Podcast. That means, should I ever want to send an email to those that I know are interested in my podcast, I can just select this tag. Easy.
This is a great way to send hyper-specific information to the people that want it, and not have to send it to those that don't.
Advanced: When people subscribe to my list, I can create a main course and then invite people to self-select into the various interest areas that are relevant to them. For example, if you are tired of spinning your wheels and don't know what to do next in your business, and you click a link related to that, you'd then get tagged as "Nurture: focus and planning" and that would then automatically unsubscribe you from the main course, and put you into a new course designed to provide you with value that could help you figure out your next steps and get focused.
Of course, these are just a couple of examples. I'm still figuring out all the options available. Here's a screenshot of their Automation features.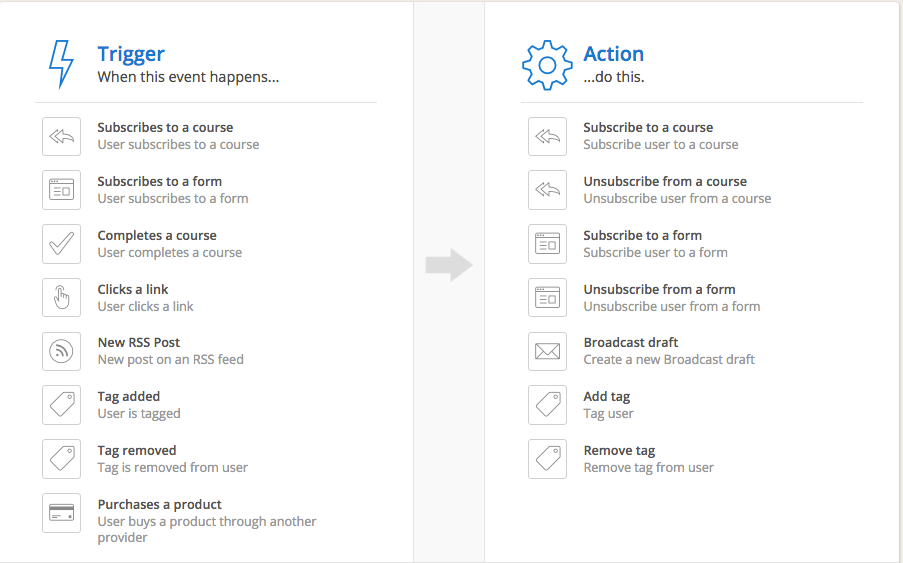 Other awesome ConvertKit features
Here are a few other features I love about ConvertKit (and which tipped me over the edge from Aweber).
• The cost is on par with Aweber and MailChimp, but has many more features.
• I don't pay for Unsubscribes. In Aweber, you pay for those that have unsubscribed. Now, you can manually go in and delete them, or get Aweber to – but this is a pain. I don't want to pay for people that don't even get my emails!
• I don't pay for duplicates. This was one of my pet peeves with Aweber. Because Aweber is based on lists (vs tags), I had many lists set up – from customer lists to opt-in lists and more. If you joined my main list and then opted-in to my new freebie, I paid for you twice. There are people on my list that have been there since 2008, and have opted-in to many of my lists — it's possible that I might have been paying for people 5x or more. Plus – it totally skewed my numbers. If you were on five different lists, you were counted five times. This did not give me an accurate reflection of my current subscriber numbers.
• The reporting is more robust. In all honesty, I haven't spent a lot of time here regardless, but will moving forward. Aweber does have decent reporting features, but ConvertKits are more robust.
• Their course feature is drag and drop. You can easily move emails around with drag and drop and it will automatically update for you.
• You can re-send to Unopens. I haven't used this feature yet, but you can very easily re-send your broadcast with just a click of a button to those who haven't opened it yet. I believe Aweber had a version of this, but it required more manual work. I want simplicity!
• You can create different types of forms and even do landing pages. While this isn't that important for me given that I use LeadPages, it's a feature I'd recommend to those who want that functionality and don't want to have two services.
• Their customer service has been stellar thus far, and they are super responsive.
Bottom line:
As you can see, there are many reasons why I made the switch, but the biggest was to be able to do the custom and powerful automation that the big players (Infusionsoft/Ontraport) had, without the complexity and cost.
Note: it needs to be said that Aweber has *just* rolled out a new beta upgrade called Campaigns which I would assume, aims to do some of these features. I received my invite just as I was making the switch to ConvertKit, so I haven't tried it. It may do the trick. That said, some of the other features I dislike about Aweber are still relevant, so regardless of this new feature, I'm staying put with ConvertKit.
I am now in the process of totally revamping my email marketing strategy, implementing multiple nurture campaigns designed to give you with the value you need for the stage of business you're at, and to get a better pulse on my email marketing numbers.
I also love that I can totally recommend this option to my clients even if they are in early stage businesses. I am an advocate of "begin as though you wish to continue" but I couldn't justify telling them to start with the big players right out of the gate.
With ConvertKit, I will confidently encourage them to start with it as means to set up email systems from the get go.
Ready to give ConvertKit a try?
*Note: I am a proud affiliate of ConvertKit which means if you purchase through my link, I will get a small commission. Naturally, I only recommend products I love and use.
---