Build a business. Then go beyond it. 
If you're ready to move beyond the daily demands and busy-work to build an enduring and prosperous business, I'll help you develop the confidence, clarity and capacity to lead your business forward.
More vision. More precision. More recognition. 
Go Beyond!
AMPLIFY: Leadership Letters
A weekly letter from me to you. Delivered with care.
Subscribe now
Beyond PRO Podcast
Leadership insights for women in business Listen now
Communicate Like a PRO
50+ scripts to help you communicate with confidence and grace
Learn More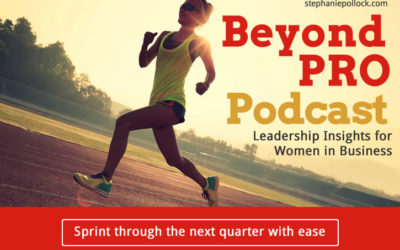 "Spending time on secondary priorities is the reason you have 20 half-finished projects instead of 5 completed ones." ~James Clear Can you believe that spring is officially here, and quarter two of 2017 is already here? I don't know about you, but these past weeks have flown by. Now, I don't want to spend a bunch of time hashing over the past three months, asking you if you've stayed on track with the goals and plans you laid out at the beginning of the year. If I were a betting woman, I'd guess that you've made progress on some plans but others have stayed in pause mode because of lack of time, clarity or resources to take action. Am I right? Regardless, I want to use today's episode to kick start that fire in your belly and help you get ready to make the most of quarter two. Because while quarter one is already over, quarter two is still ahead of you beckoning you to make the most of it. I wanted to share one of the best ways I know of it get back in the swing of things and set a path for progress. And that's working in 90-day increments, with a mix of longer-term work and more specifically, short sprints. Listen in to today's episode: Sprint through Q2 with ease Click To Tweet There's a time to go slow, and then there's a time to sprint. Click To Tweet Reach your goals faster by adding a few sprints to your project plan mix. Click To Tweet Full Transcript: Can you believe that spring...
There are a lot of coaches out there who I hide from – the bubbly, infomercial types that lack the accomplishments they are telling others to achieve. Stephanie is not one of those people. She is smart, tough, and has built a successful business practicing the values-led business planning she has pioneered. If you are highly successful but feeling more drained than inspired by your work, invest in coaching with Stephanie.
Building a thriving business has never been a challenge for me. Not letting the business run over my personal passions and family time – that's been my issue. In a way that no business book or personal resolution could do – Stephanie challenged me to look at my values and define practical actions to reshape my business and get more pleasure from my professional life. It is work everyday to stay true – but what she teaches, sticks.
Claudia Moore, Partner, Material Insight
Since we began working together I have redefined my business focus, clarified the look and feel of my brand, gotten myself a fabulous new tagline and am just overall feeling laser focused and inspired to take my business up a level – hell, I'm ready to skip a level at this rate. Michelle Barry Franco
Before working with Stephanie, my business was a mess of ideas, complicated packages, obscure pricing and lots of big ideas with no action. Since working with her, my business is completely unrecognizable, in the best ways possible. Before working with Stephanie, I faced challenges around mindset, putting ideas into action, and overthinking/getting stuck in perfection.
I can actually see myself as an entrepreneur and not as someone who is "playing business". Stephanie's motto of "going pro" is woven through all the work you do with her. Stephanie will pull or push you through those mindsets that are holding you back and make you face what it means to go pro.
Amy Deagle, Founder + CEO, Women of Possibility