Build a business. Then go beyond it. 
If you're ready to move beyond the daily demands and busy-work to build an enduring and prosperous business, I'll help you develop the leadership skills and focus needed to make it happen.
More vision. More precision. More recognition. 
Go Beyond!
AMPLIFY: Leadership Letters
A weekly letter from me to you. Delivered with care.
Join now
Beyond PRO Podcast
Leadership insights for women in business Listen now
FREE: Plan with Purpose
A strategic email course to design the year ahead.
Register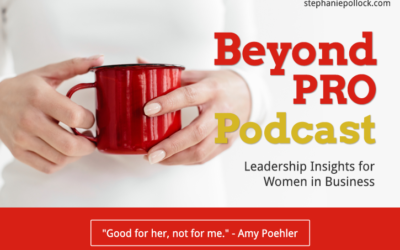 I can't go far without hearing the statement, "You do you." It seems to be the quote-du-jour. This idea of "You do you" is similar in sentiment to Amy Poehler's words, "Good for her, not for me." These words come from her hilarious book, Yes, Please! The full quote reads: "That is the motto women should constantly repeat over and over again. Good for her, not for me." When I heard this, I thought about just how true the statement is, and yet how much we fight against it. And the thing is, business is hard enough without working against ourselves, so let's sink into what it would really mean to live Poehler's words. Enjoy today's episode: Recommended Resources: Yes, please! – Amy Poehler Better than before – Gretchen Rubin Four tendencies quiz How to create a personalized success plan How to live a good life – Jonathan Fields Submit Your Question: Starting next week, I'll be adding a new episode to the weekly line-up where I get to answer your burning business and leadership questions. I wanted to add this to the mix in the spirit of being more useful to you in 2017. Here's what that looks like and how you can be involved. You can visit the link: bit.ly/bppquestions and submit a question for consideration. I'll answer a listener question on a first come, first serve basis every Thursday. Now, you might wonder what kinds of questions you can and should ask. First, let me be clear that I'm not looking for business mechanics questions. Asking me what type of shopping cart to use, or whether you should be...
There are a lot of coaches out there who I hide from – the bubbly, infomercial types that lack the accomplishments they are telling others to achieve. Stephanie is not one of those people. She is smart, tough, and has built a successful business practicing the values-led business planning she has pioneered. If you are highly successful but feeling more drained than inspired by your work, invest in coaching with Stephanie.
Building a thriving business has never been a challenge for me. Not letting the business run over my personal passions and family time – that's been my issue. In a way that no business book or personal resolution could do – Stephanie challenged me to look at my values and define practical actions to reshape my business and get more pleasure from my professional life. It is work everyday to stay true – but what she teaches, sticks.
Claudia Moore, Partner, Material Insight
Since we began working together I have redefined my business focus, clarified the look and feel of my brand, gotten myself a fabulous new tagline and am just overall feeling laser focused and inspired to take my business up a level – hell, I'm ready to skip a level at this rate. Michelle Barry Franco
Before working with Stephanie, my business was a mess of ideas, complicated packages, obscure pricing and lots of big ideas with no action. Since working with her, my business is completely unrecognizable, in the best ways possible. Before working with Stephanie, I faced challenges around mindset, putting ideas into action, and overthinking/getting stuck in perfection.
I can actually see myself as an entrepreneur and not as someone who is "playing business". Stephanie's motto of "going pro" is woven through all the work you do with her. Stephanie will pull or push you through those mindsets that are holding you back and make you face what it means to go pro.
Amy Deagle, Founder + CEO, Women of Possibility