Beyond PRO Podcast
Leadership Insights for Women in Business
Featured as one of "24 Exceptional Women-Hosted Podcasts for Entrepreneurs in 2017" by Entrepreneur Magazine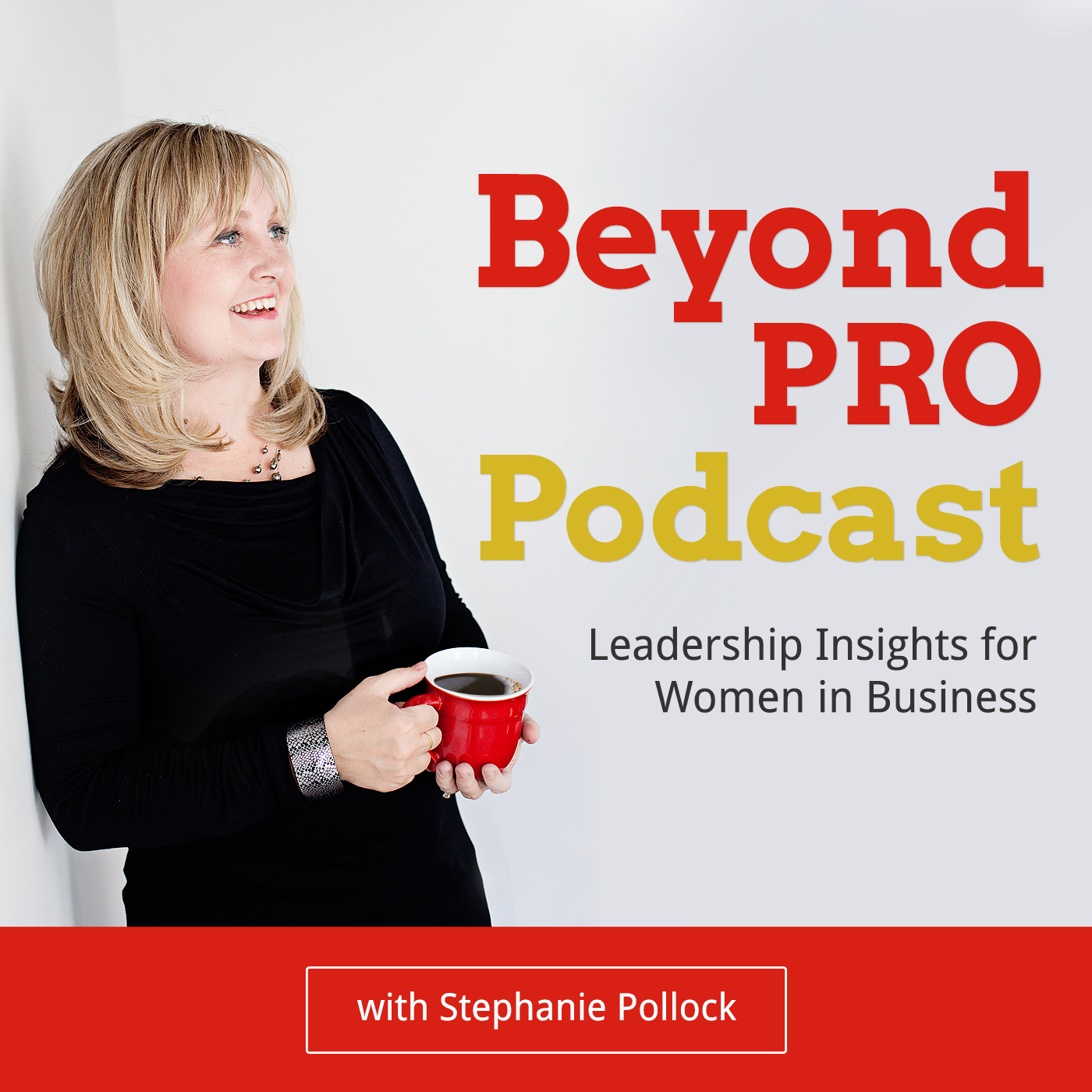 This podcast is dedicated to helping women CEOs, founders, solopreneurs and business owners develop the leadership skills and mindset they need to grow a smart, sustainable business.
The Beyond PRO podcast is short, straight-to-the-point actionable advice and is designed to get you thinking and acting beyond the day-to-day grind of running a business. Each episode has a downloadable printable so you can immediately put the concepts to work in your business.
---
Subscribe and never miss an episode!
iOS users: Subscribe in iTunes / Android users: Subscribe in Stitcher
My favourite podcast app is Overcast.


---
---
Please review the show
If you enjoy the Beyond PRO Podcast, I'd be so grateful if you'd take a minute and leave a review in iTunes. This helps more people find the show. Simply head to iTunes and leave a review. You can review the show by clicking here. Thank you!!
---
Praise for the Beyond PRO Podcast
Read what other subscribers have to say about the show:
"Stephanie provides excellent insight and immediately useful tips to grow your business and keep you on track with your goals. This podcast speaks volumes about staying true to yourself and remaining focused on what is important in your life. I have been addicted to her materials for over two years and now you will be too!" ~Poor14
"A CEO friend sent me a link to Stephanie Pollock's site and I have been hooked on her podcasts and materials ever since. As an entrepreneur who has been in business for over 10 years, this really speaks to taking my company to the next level and enjoying measured growth. Excellent!" ~Double Back Prod 
"These podcasts contain vital information for taking your business (and life) to the next level. I love how the podcasts are short, yet packed with practical, easy to apply information. Every podcast has provided me with a tool I've put into practice." ~Accendo Consulting
"I listen to a lot podcasts, and most of the business ones feel like they are by men and for men. Stephanie brings a breath of fresh air for women in business. Not only that, this is unique in that she packs in real education in a brief time span. And it has a sense of heart and balance, while also getting serious about money and getting things done. It's not just another interview show where someone is selling you something. I LOVE it. Highly recommended. I have followed her work for years and taken her classes. She's the real deal!!" ~ValNelson
"Totally look forward to these podcasts. Steph talks about the topics that are absolutely essential to taking charge of your business and running a truly successful company. Its laid out in plain language that is easy to take in and implement." ~AlishiaSpring
"I've worked with Stephanie in a variety of ways for several years. In all cases, she has gone above and beyond. She has a way of getting at the heart of issues–resistance, overwhelm, etc–and helping people move beyond them. These podcasts are another way that Stephanie is going above and beyond for the people she serves. Each episode is packed with useful and timely advice. Thank you, Stephanie, for taking the time to put these together." ~Carole Audet
I am so encouraged and motivated by Stephanie and her business insight especially because it relates to women in business. I am in a male dominated industry, but Stephanie's advice and experience help me to keep moving upward. ~Kathy Parnell
Stephanie's insights, wisdom, and real life examples are in my must listen podcast list. Every time I get a notification of a new episode I carve out time on my calendar to listen and take notes. In fact today, I was feeling overwhelmed and full of negativity towards my business and then I remembered…I have a new Beyond Pro podcast! It's time to refocus, regroup, and change my perspective. After listening to Deadhead Your Business, I've walked away with 6 new ideas and a much improved frame of mind. Beyond Pro and Stephanie Pollock are my go to resource for business growth, leadership and learning how to show up as my best self! Thanks, Stephanie! ~Rock Canyon Coffee 
This podcast is a wonderful boost to my day! Stephanie is authentic, practical, and full of wisdom for entrepreneurs based on real-life experience. I'm a long-time follower of her work and am grateful for this podcast so I can hear her tips and insights on the go! ~Pepper Makepeace, Small Business Sisterhood
About Stephanie