Speaking + Media Sizzle
Inspiration + Insights for Leaders on the Rise
I speak, teach + coach for one reason: to help talented women GO PRO with their dreams, stepping into the spotlights — and revenue streams — they so richly deserve.
My work integrates leadership activation, personal brand strategy,  personal mastery + profit-driven business design. I don't just want my clients to make money — I want them to make history. And I want them to realize their greatness as leaders + future industry shakers, from day one. 'Cause when it comes to claiming your life purpose, there's literally no time to waste.
Scroll to the bottom of this page, and you'll find glowing reviews from clients + fans.
Or stay right where you are, and I'll tell you more about how to book me for an interview, presentation or training event.
Highly-caffeinated. Profoundly opinionated.
I love talking about leveling up your life + business — with courage, integrity and personal responsibility. And I'll talk to just about anyone with provocative questions on the table — journalists, bloggers, authors . . . or audiences of hundreds.
Want to pick my brain, snag a soundbite — or bring me onto your stage?
Shoot me a note, and tell me what you need.



My favourite topics. (Aside from my kids).
: Lead Your Business Like a PRO — Because hobbyists rarely make history
: Dancing with Greatness — how to stop hovering around your highest potential, and actively CLAIM it. (So tricky. And so worth it.)
: Activate Brand YOU — How to uncover, leverage and activate your personal brand for business success
Previous Speaking Gigs
Young Women of Influence Evening Series — Keynote address on Personal Branding
Womentum Canada
Sexy & Wealthy in Heels
Okotoks Chamber of Commerce
NewAlta Corporation
Women's Leadership Forum
Professional Organizers of Canada National Conference — Keynote address
Onscreen. In Print.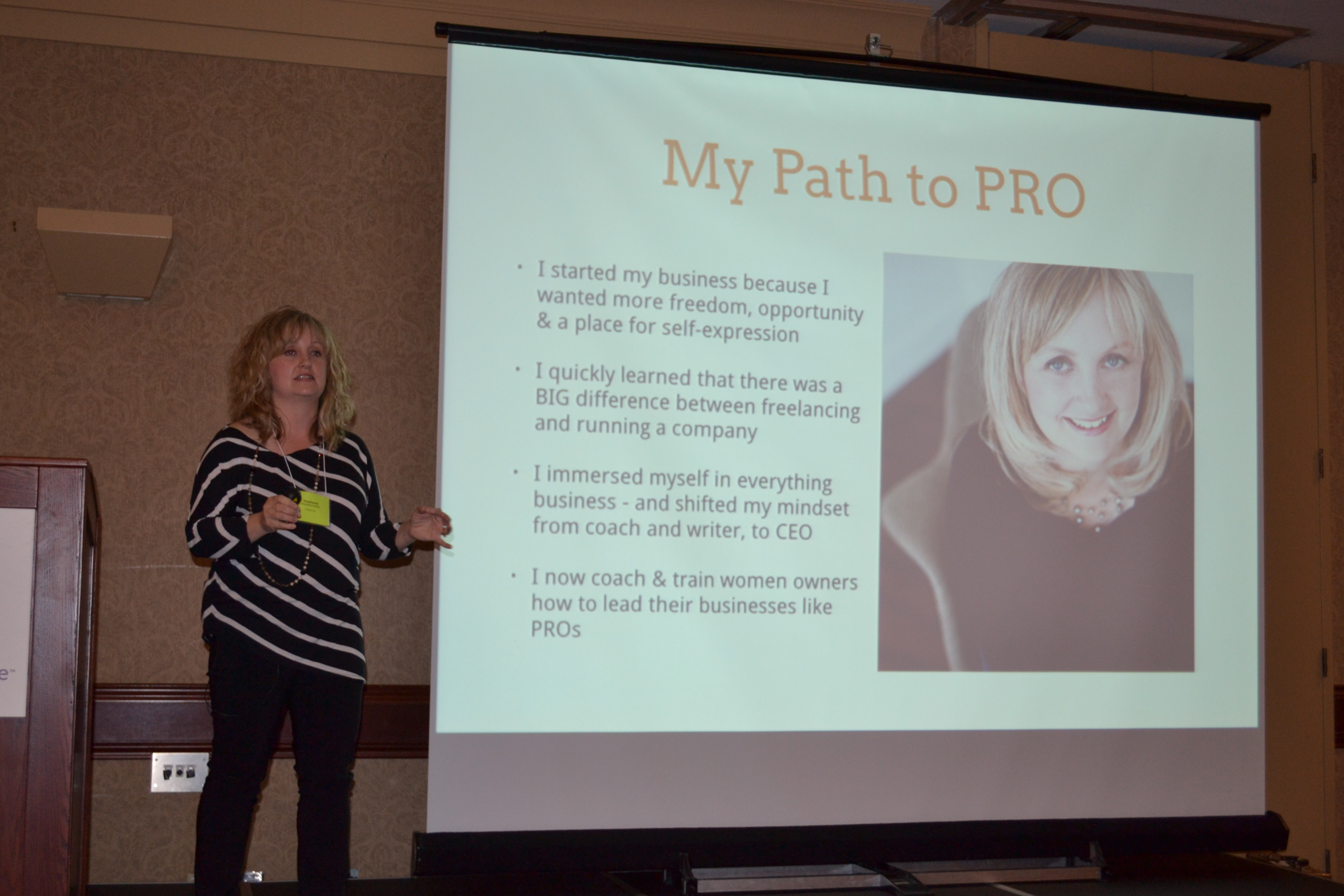 We were so impressed with the "Dancing with Greatness" content you prepared for our group. Not only was it very informative, it compelled every woman to participate, which as you know, doesn't always happen in a group of strangers during a shorter period of time.
It was wonderful to see many "light bulbs" come on for people as they discovered where they were hovering around their potential. Equally, watching women share without fear because of the safe environment you created was very fulfilling to witness. The feedback we received from the attendees was 100% positive when it came to your presentation, approachability and delivery.
Almost every part of the workshop was perfect. The only thing we would change is the length. It should have been longer! ( insert smiley face here).
We would definitely recommend your services as a speaker, and look forward to working with you again in the future.
Lana Wright
Stephanie Pollock is on point, creative and this woman knows her stuff!
From beginning to end, Stephanie was a key part factor when putting together Sexy and Wealthy in Heels Calgary. She has a unique perspective on several aspects of business and entrepreneurship, and is excited to share it with others. Stephanie is clearly someone who just "gets it!"
We can't wait to collaborate again in the future.  It is refreshing to know women who has clearly got the business process and planning down.
Laura Furtado
I attended your session "Lead your business like a PRO" last weekend in Calgary.  I just wanted to thank you for delivering such an impactful presentation.  Realizing what phase my business was in and figuring out what I need to eliminate, reduce, raise or create are lessons that I will undoubtedly carry forward.
As a fairly new Professional Organizer I knew that I had much to learn at the conference and you certainly helped me in that process.  A lot of what you said really hit home for me and I think it's going to help me become a better business woman and solopreneur as I delve into this new venture.
So, thank you again for being part of such a rewarding experience for me.  Please don't hesitate to be in touch if your travels take you to Montreal.
Allison Weigensberg