I'm a big believer in using technology to help your business run better.
In fact, I put together an entire PDF download of all the tools I use to power my business. You can find it by clicking here. 
And while there are many great tools out there, there are a few that are too good not to bring extra attention to.
That's how I feel about CoSchedule.
Welcome to another behind-the-scenes post showcasing a few of my most beloved tools and exactly how I use them daily. This week I'm showing you the amazing power of CoSchedule. Missed last week's post? Click here to read about my love for Evernote.
When I discovered CoSchedule, my first reaction was, "Finally! I have been waiting for this for years!"
After using, or more accurately, trying to use a number of tools to manage my content – from Excel to the WordPress Editorial Calendar to a paper version to even my beloved Evernote – I simply wasn't happy with the way any of them worked in my business. Some were clunky, some required I use tools I loathe (anyone else hate Excel as much as me??) and some just weren't robust enough to be entirely useful.
That all changed when CoSchedule entered the scene (and it's only gotten better since I first signed up!).
CoSchedule is a complete editorial and marketing calendar tool to enable you to plan out all of your online marketing efforts – from blogging to social media to podcasting to videos and more.
And it's visual. This is one of the main reasons I was attracted to it – I like to see the whole content picture at a glance. I want to actually work with a calendar to identify gaps, think through strategy and make adjustments easily.
Benefits of CoSchedule:
• All-in-one marketing planner
• Visual views
• Easy to use (drag and drop)
• Stellar integrations
• Reasonably priced
• Saves time and helps avoid last minute content creation
• Customer service is great
Here's a video of CoSchedule in action: 
CoSchedule as a content marketing planner:
The primary way I use CoSchedule is as a content marketing planner. As a hardcore planner, I much prefer to plan out my content (blog and podcast) in advance versus leaving it until the week of to decide what I'll be writing/talking about. I used to do this, but it leaves too much to chance – and relies on my ability to be creative on a moment's notice.
Now that I've got Shandra, my new Content Director helping me stay on top of my content production, we are doing our best to stay head of the game. For example, last week we met to map out the entire first quarter of content for 2016. That way, I know what's coming and when, and we can start to work ahead of the game and I can batch-produce my content so I can be much  more consistent.
So here's how we work it in my business.
Step #1: We have a content planning session and map out all upcoming content for the next 90 days. We take into consideration seasons, key dates, launches, new offerings and what my audience is asking for. We create draft headlines for each post so we know what the topic area is.
Side note: CoSchedule also has an amazing Headline Analyzer tool I use to put my headlines to the test. You can find it here.
Step #2:  We create drafts of each post inside Evernote in either the Blog – Drafts or Podcast – Drafts. This is where we'll actually create the content. (Want to know more? Click here to read my Behind-the-Scenes post on Evernote).
Step #3: We head to CoSchedule and start pulling those Evernote drafts into the CoSchedule calendar for the specific dates we want. Once they're all in, we have an at-a-glance view of all our main content for the next 90 days. If we need to move it, we can simply drag and drop (one of my favourite features).
Step #4: When ready for publish, we convert that Evernote note into WordPress for final editing, formatting and publishing.
Step #5: We add in our social media updates for the post and Click to Tweets.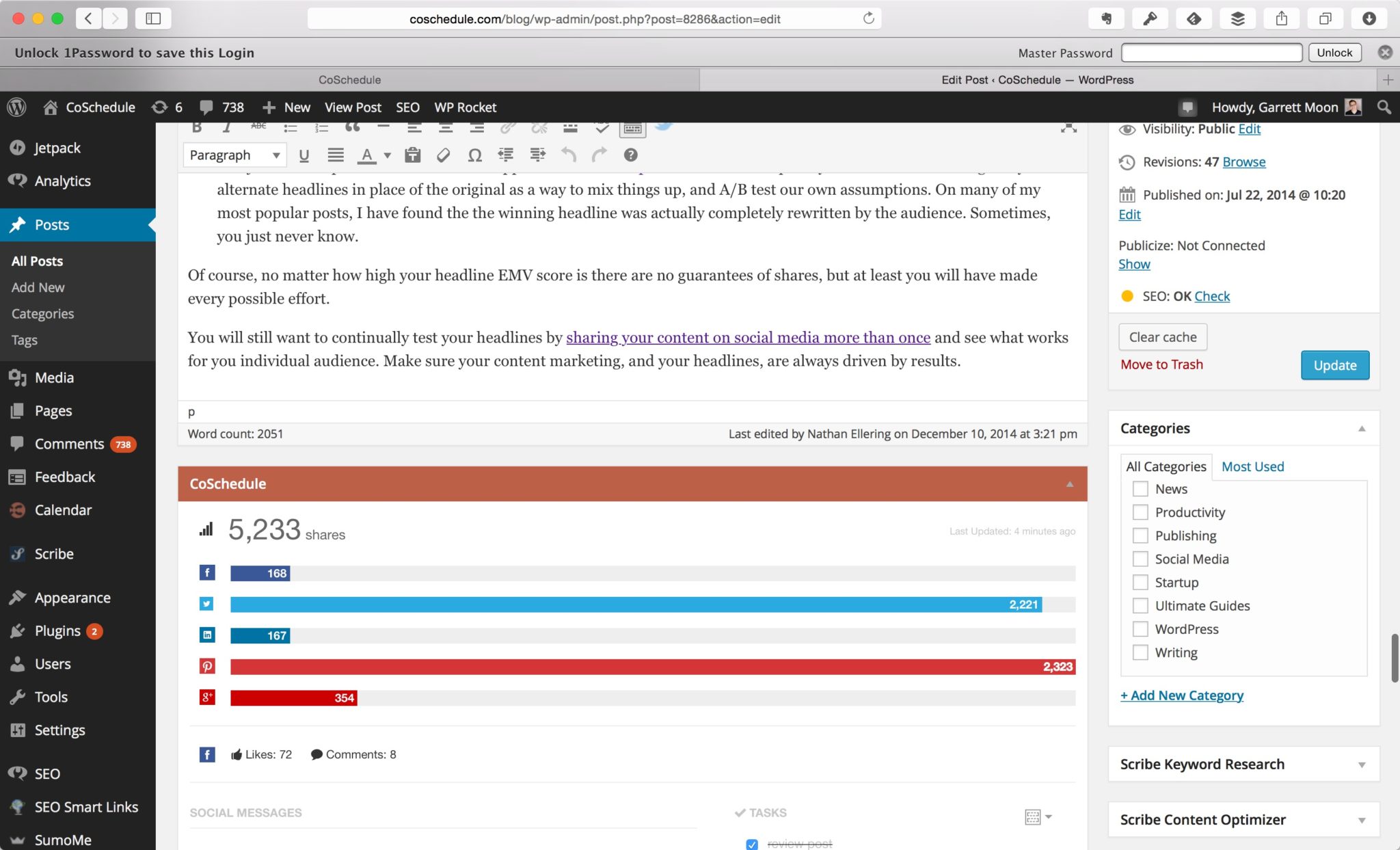 CoSchedule as a social media manager:
I've often struggled with having a consistent presence on social media. Truthfully, this is because I'm not a hard-core social media user, so I often forget to get in there and post. I have wanted to get organized around this and start posting more regularly and consistently. Last year, I signed up with Edgar – an amazing social media tool developed by Laura Roeder. I wanted to love Edgar so badly. I paid for it for a while even though I wasn't really using it. And I still think it's a fantastic tool. But what kept me from staying with it was the set-up. It required a pretty hefty investment of time up front to get a comprehensive library built up – something I never completely did.
And while I do love Edgar's ability to recycle posts, CoSchedule serves up almost all the same features. I can now go into my CoSchedule calendar and plan out all my social media posts for the day, week, month and beyond. And, I can see them all at a glance in conjunction with my other marketing efforts.
Another social media perk is the ability to create social media posts for your specific blog post, directly inside of it. Just before a post goes live, I create a set of social media updates for that particular post and schedule them right in CoSchedule. It integrates with Facebook, Twitter, LinkedIN, Tumblr and Google +. This is easier to show vs tell, so see below for what this looks like in action.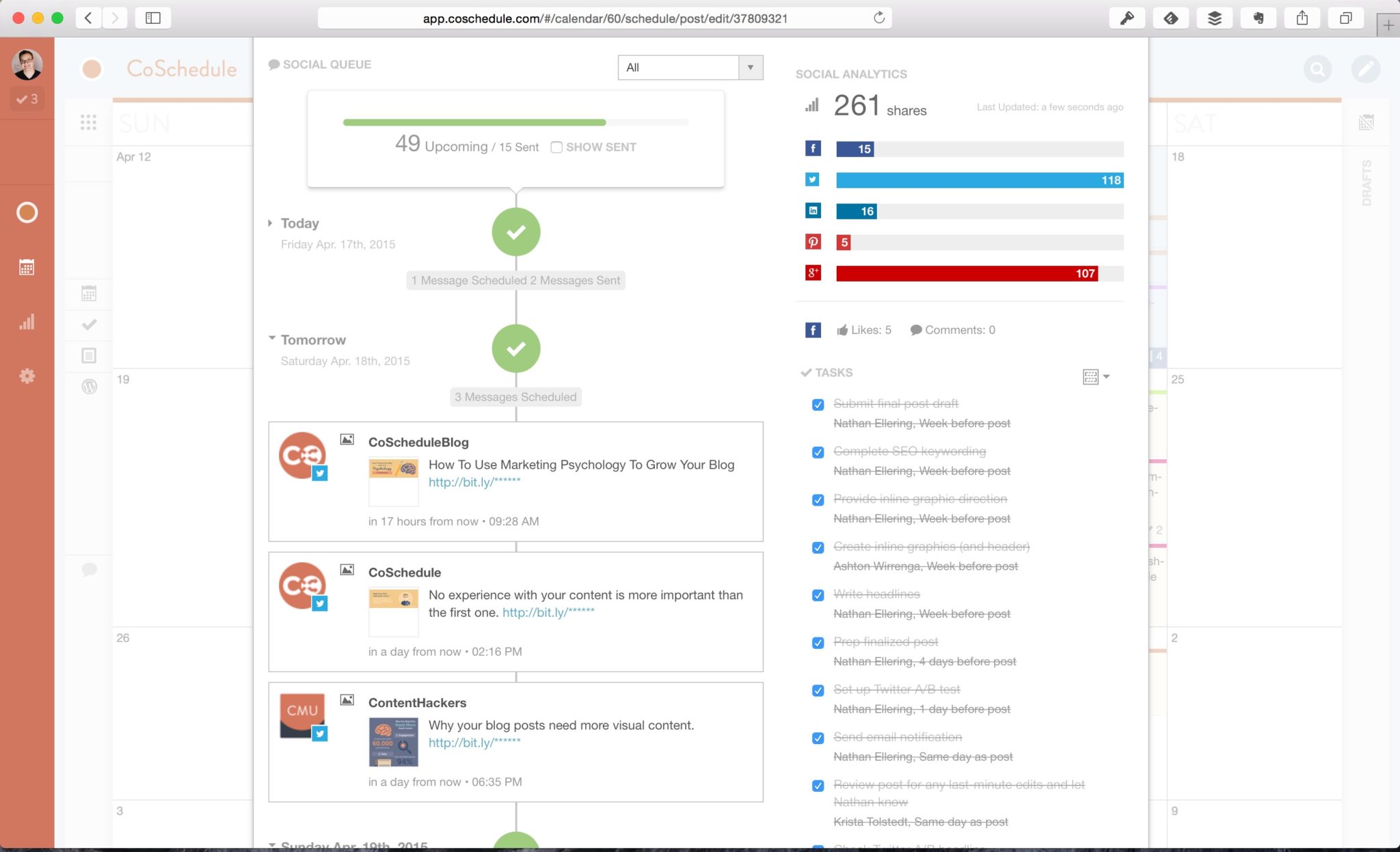 One small, but mighty feature I love, is the Click to Tweet plugin via CoSchedule. I can drop Click to Tweets right into my blog posts using CoSchedule so that my audience can share my message. Here's it in action:
One majorly under leveraged strategy is to review your best content and re-share it for increased visibility. CoSchedule makes that easy. There's a feature to be able to see exactly which posts preform best and then click a button to re-share on social media. This information is very helpful as means to identify what content is most resonant with your audience, but also to get increased mileage from the hard work you put into your content.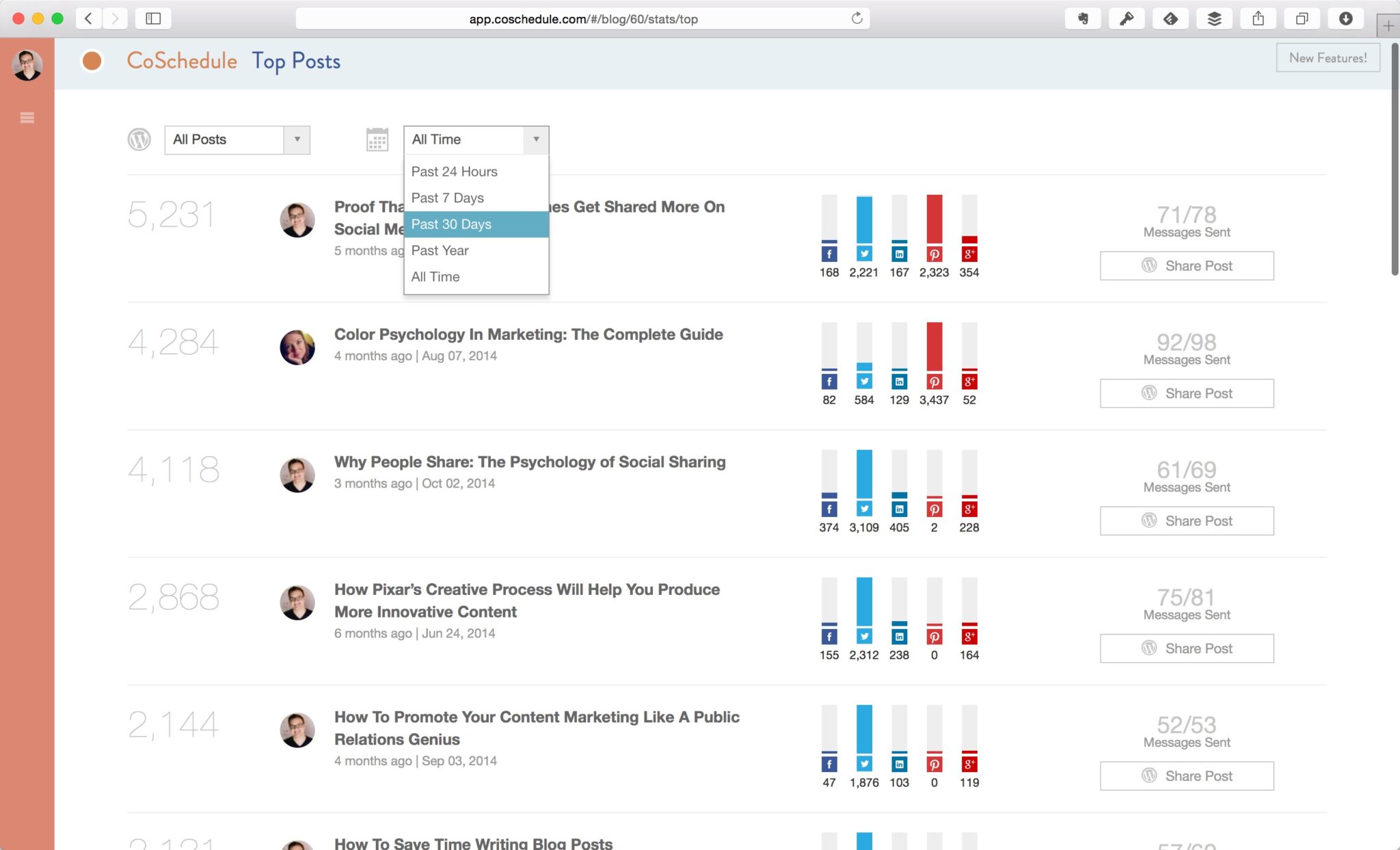 And finally, CoSchedule has just introduced a new Chrome extension, which allows me to take posts I read online, and quickly add them directly to my calendar.
I've read that more social media features are coming – stay tuned!
CoSchedule as an all-in-one marketing manager:
When I first signed up with CoSchedule, it was simply an editorial calendar (and that was money well spent). Since then, they've added more features to really turn it into a complete marketing manager for your business. If, like me, you want to be able to get a bird's eye view of everything happening in your business marketing-wise, CoSchedule might be that perfect solution. For example, in CoSchedule you could include:
Social Media Updates
Upcoming events (e.g. Challenges, launches, webinars etc)
Blog posts
Podcasts
Other forms of content (e.g. Releasing a new ebook etc)
While I'm not quite there yet, my intention is to move everything marketing and date-specific into CoSchedule so I can see it all at once. This is an incredibly useful way to see if there are gaps, overlaps, etc. Here's a look at this in action: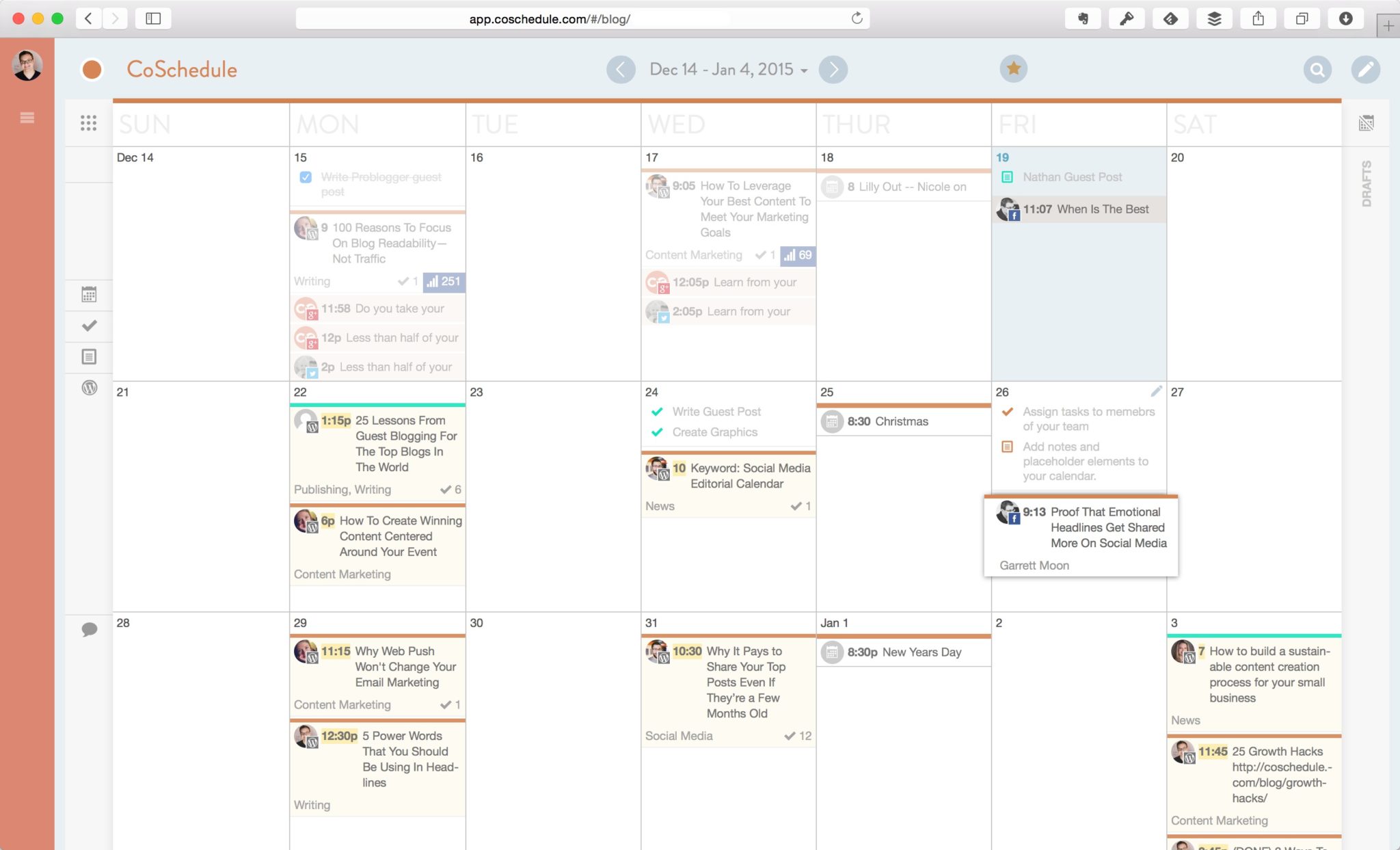 Integrations:
Beyond the visual nature of CoSchedule, my main love for it is because of its powerful integrations. As I talked about in my Evernote post, I prefer using fewer tools that all talk to each other so I don't duplicate efforts.
Here are some of the integrations CoSchedule has:
WordPress: This is the big one. I can use the CoSchedule web app, or I can manage my calendar directly in WordPress using the CoSchedule plugin (I prefer the former). Plus, any actions I take in CoSchedule immediately translate into WordPress. So, if I schedule a draft post in CoSchedule, it automatically create a draft post in WordPress with all the appropriate categories and details.
Evernote: When this integration was released I did a happy dance! Initially, I was trying to manage my editorial calendar in Evernote, but while I love Evernote for almost everything else, it didn't work easily for this purpose. I prefer to see a calendar view and be able to move things around easily and Evernote didn't support that. Until now.
Here's just how awesome this integration is — let me walk you through an example (this is how I use it).
Step #1: Create a draft post in Evernote
Step #2: Go to CoSchedule and pull it from Evernote
Step #3: Write
Step #4: Convert to WordPress
Step #5: Edit and click to publish!
As you can see, this is an easy way to work with Evernote and CoSchedule.
Google Docs:
While I don't use this feature because I use Evernote instead, the process would be very similar. You'd simply pull content from Google Docs into a CoSchedule draft and then convert to WordPress. Easy!
Other integration include: Bit.ly, Buffer, Google Calendar and Google Analytics.
The investment for CoSchedule is reasonable given what I pay / have paid for other tools, and taking into consideration it's one-stop-shop benefit. There are three types of plans for Solo Users and three plans for Team Users. The features vary from plan to plan, but even the basic plan is enough for you to benefit.
I am currently on the Solo Marketing plan, which is $39/month (or $360/year). Depending on what social media updates they add, I may upgrade to the Solo Automation plan. I also would like the bonus team features, but these aren't make-it-or-break-it items now, given that we use Asana to actually manage the deadlines.
Either way, CoSchedule has made a tremendous impact on my content marketing – even if for nothing but my own sanity and clarity.
Ready to give CoSchedule a try? You can do a 14-day risk free trial. I'm confident you'll love it!
---